Descrizione
Dettagli del prodotto
The Losi® Super Baja Rey 2.0 with Spektrum™ Smart is the new standard in 1/6th-scale desert trucks. Overpowered and over-the-top, the SBR 2.0 takes it to the next level of performance and scale detail.
Il Losi® Super Baja Rey 2.0 con Spektrum ™ Smart è il nuovo standard per i camion da deserto in scala 1/6. Potente ed esagerato, l'SBR 2.0 lo porta al livello successivo di prestazioni e dettagli in scala.
Caratteristiche principali
Officially Licensed Method Wheels and BFGoodrich Tires
Officially Licensed Brenthel Trophy Truck Body
50+ MPH Spektrum Firma 8s 1/6 750kv Brushless Motor
3 Separate Mounted LED Lightbars
Spektrum
Nella scatola è presente:
(1) 1/6 Super Baja Rey 2.0 4WD Brushless Desert Truck
(1) Spektrum Firma ESC and Motor
(1) Spektrum™ DX3™ Radio System
(1) Product Manual
Necessario per completare
(2) 3S or 4S LiPo Batteries
(1) Compatible LiPo Charger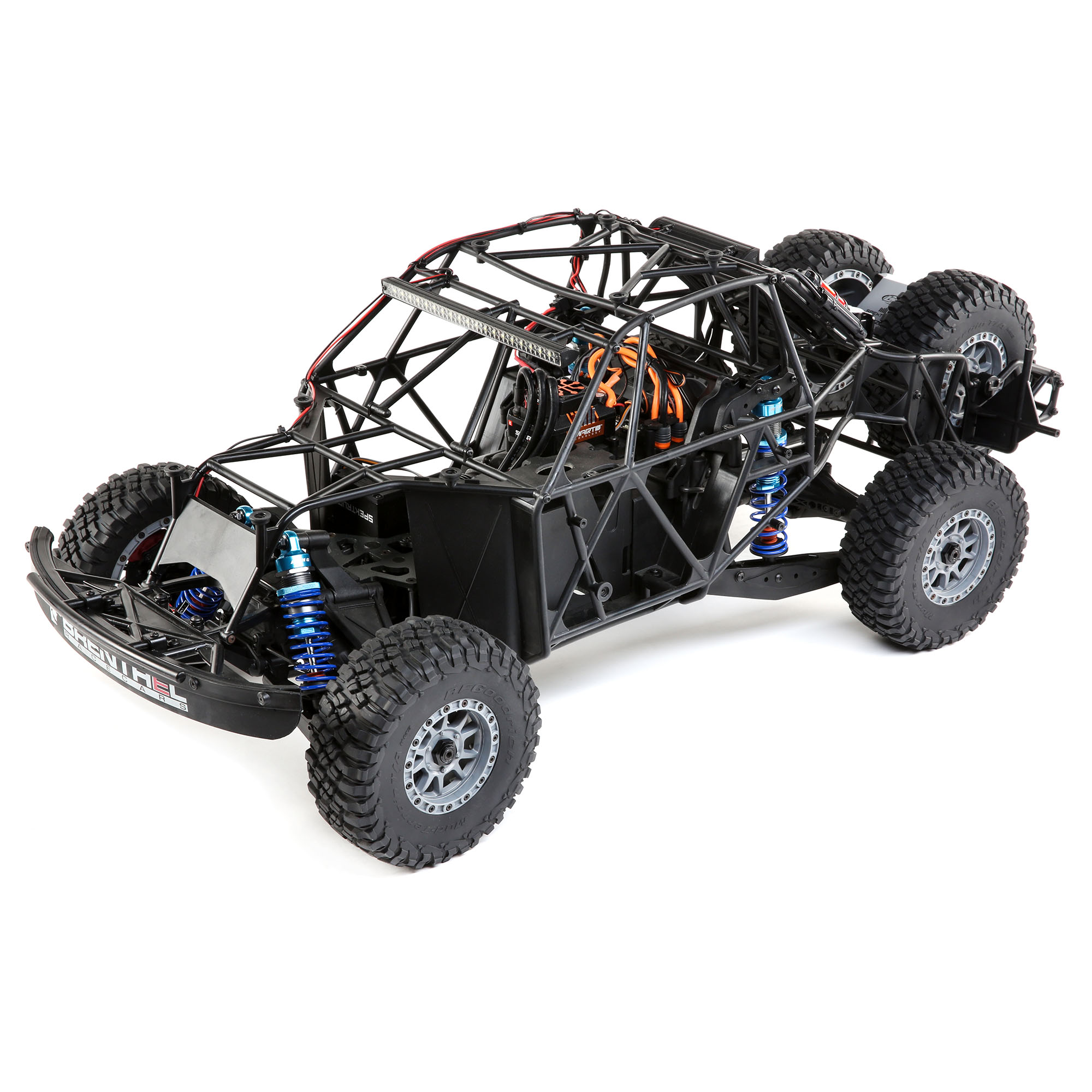 Caratteristiche
Licensed Method Racing Beadlock Wheels
Licensed BFGoodrich Mud-Terrain T/A KM3
Bottom Loading Battery Tray
New Brenthel Body and Cage work with dual spare tires
AVC – Active Vehicle Control System
New Front Suspension Arms and Slider Front driveshafts
Long Travel Suspension
King Coil-Over Oil Filled Shocks with new springs
8S Capable Motor and ESC
Longer Rear Trailing arm with increased wheelbase
Shaft Driven 4wd Drivetrain
Updated HV capable S905 Lage Scale Steering Servo
New Front Bumper with realistic lower valance and Brenthel logo
New stiffer front sway bar
LED Lights
Scale Details
Spektrum™ DX3™ Radio System
Panoramica
The Losi® Super Baja Rey 2.0 with Spektrum™ Smart is the new standard in 1/6th-scale desert trucks. With powerful performance and incredible scale looks, the SBR 2.0 takes it to the next level! Taking the Super Rock Rey chassis, adding about an inch to the wheelbase and morphing it with the front end from the Super Baja Rey gets you the all new and improved Super Baja Rey 2.0! You get the best of both worlds! The Spektrum Firma™ SMART 160 Amp 8S ESC and 750kv Firma 1/6th 5687 brushless motor allow you to unlock blazing speeds. The bottom loading chassis makes battery changes a breeze. Front and rear LED light bars keep everything nice and bright for off-road adventures at night. Drivers stay in control with a DX3™ transmitter, a Spektrum 6100AT AVC® receiver with steering priority, and officially licensed Method Racing Beadlock Wheels and BFGoodrich Mud-Terrain T/A KM3 tires. The new Brenthel Trophy Truck body is modeled after their actual race truck providing an aggressive, scale-detailed look. The Losi® Super Baja Rey 2.0 is the ultimate desert truck with scale looks, insane speeds, performance and Spektrum Smart
Il Losi® Super Baja Rey 2.0 con Spektrum ™ Smart è il nuovo standard nei camion da deserto in scala 1/6. Con prestazioni potenti e un aspetto in scala incredibile, l'SBR 2.0 lo porta al livello successivo! Prendendo il telaio Super Rock Rey, aggiungendo circa un pollice al passo e trasformandolo con l'estremità anteriore del Super Baja Rey, ottieni il nuovissimo e migliorato Super Baja Rey 2.0! Ottieni il meglio da entrambi i mondi! Lo Spektrum Firma ™ SMART 160 Amp 8S ESC e il motore brushless Firma 1/6 5687 da 750 kv consentono di sbloccare velocità incredibili. Il telaio con caricamento dal basso rende la sostituzione della batteria un gioco da ragazzi. Le barre luminose a LED anteriori e posteriori mantengono tutto bello e luminoso per le avventure fuoristrada notturne. I conducenti mantengono il controllo con un trasmettitore DX3 ™, un ricevitore Spektrum 6100AT AVC® con priorità di sterzata, ruote Beadlock Method Racing con licenza ufficiale e pneumatici BFGoodrich Mud-Terrain T / A KM3. Il nuovo corpo del Brenthel Trophy Truck è modellato sul loro vero camion da corsa, fornendo un aspetto aggressivo e dettagliato in scala. Il Losi® Super Baja Rey 2.0 è l'ultimo camion del deserto con aspetto in scala, velocità folli, prestazioni e Spektrum Smart
Video Panoramico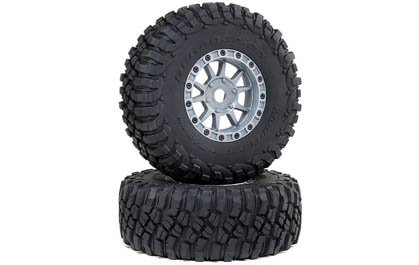 Ruote Beadlock da corsa con metodo con licenza ufficiale
New 17mm hex licensed Method Racing Bead Lock Wheels allow you to replace and update the tire or foam inserts without damage to the tire or wheel.
Le nuove ruote Method Racing Bead Lock con licenza esagonale da 17 mm consentono di sostituire e aggiornare il pneumatico o gli inserti in schiuma senza danneggiare il pneumatico o la ruota.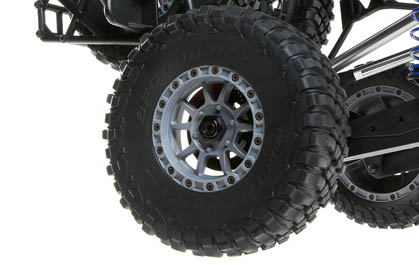 BFGoodrich Mud-Terrain T / A KM3 con licenza ufficiale
BFGoodrich is synonymous with Off-Road Racing. New licensed bead-lock BFGoodrich Mud-Terrain T/A KM3 tires! It doesn't get any more official!
BFGoodrich è sinonimo di Off-Road Racing. Nuovi pneumatici bead-lock BFGoodrich Mud-Terrain T / A KM3 con licenza! Non diventa più ufficiale!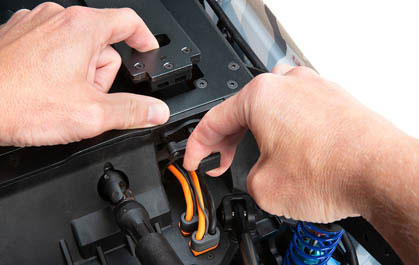 Bottom Loading Battery Tray
To help withstand the trials and tribulations of off-road driving, the Super Baja Rey desert truck incorporates our innovative bottom-loading battery system, which allows you to change the batteries without removing the body. Quickly and easily make battery changes without removing the body or wrestling with battery straps.
Per aiutare a resistere alle prove e alle tribolazioni della guida fuoristrada, il camion del deserto Super Baja Rey incorpora il nostro innovativo sistema di batterie a caricamento dal basso, che consente di cambiare le batterie senza rimuovere il corpo. Effettua rapidamente e facilmente la sostituzione della batteria senza rimuovere il corpo o lottare con le cinghie della batteria.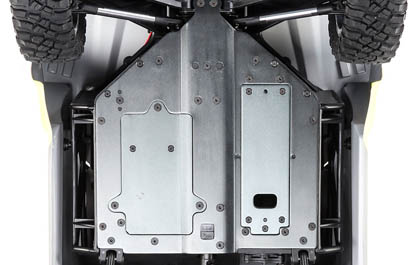 Telaio in alluminio
The foundation of the Super Baja Rey 2.0 consists of a 4mm, anodized aluminum chassis plate with a 4mm upper deck. For added durability and performance it's integrated with a realistic roll cage made of super-tough composite material. Whether you are hitting the whoops, getting huge air, or just wide open, the 4mm chassis just keeps asking for more!
Le fondamenta del Super Baja Rey 2.0 sono costituite da una piastra del telaio in alluminio anodizzato da 4 mm con un piano superiore da 4 mm. Per una maggiore durata e prestazioni è integrato con un roll-bar realistico realizzato in materiale composito super resistente. Sia che tu stia colpendo le urla, ricevendo un'enorme aria o semplicemente spalancando, lo chassis da 4 mm continua a chiedere di più!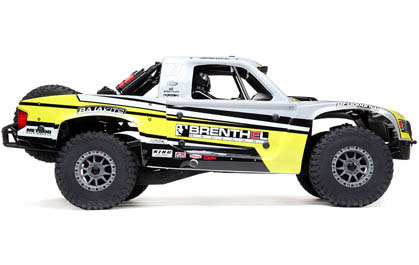 Carrozzeria per camion Brenthel Trophy con licenza ufficiale
New Brenthel Trophy Truck body modeled after their actual race truck. The hood scoop and fender vents will provide an aggressive off-road look.
Il nuovo corpo del Brenthel Trophy Truck è modellato sul loro vero camion da corsa. La presa d'aria sul cofano e le prese d'aria sul parafango forniranno un look aggressivo da fuoristrada.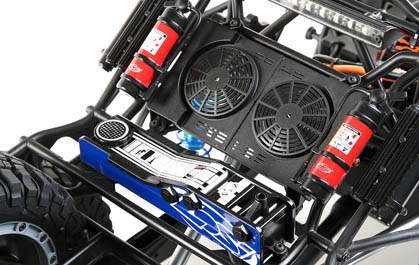 Dettagli scala
You also get a molded interior that includes a driver and co-driver, both of which sport racing helmet and harness details. Along with scale detail accents like fire extinguishers, shock reservoirs, fans and a jack.
Hai anche un interno modellato che include un pilota e un copilota, entrambi con casco da corsa sportivo e dettagli di imbracatura. Insieme a dettagli in scala accenti come estintori, serbatoi shock, ventole e un martinetto.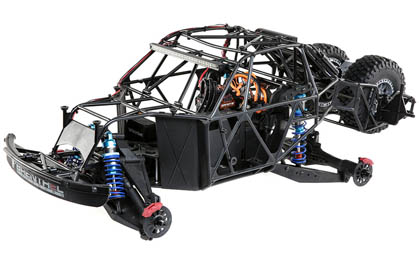 Roll Cage corposo
Just like the 1:1 desert trucks, the Super Baja Rey 2.0 comes with a super-rigid roll cage made of super-tough composite material that enhances the truck's scale looks and durability. It is integrated with the 4mm anodized aluminum chassis plate providing the ultimate protection for your truck and electronics.
Proprio come i camion del deserto 1: 1, il Super Baja Rey 2.0 è dotato di un roll-bar super rigido realizzato in materiale composito super resistente che migliora l'aspetto e la durata del camion. È integrato con la piastra del telaio in alluminio anodizzato da 4 mm che fornisce la massima protezione per il tuo camion e l'elettronica.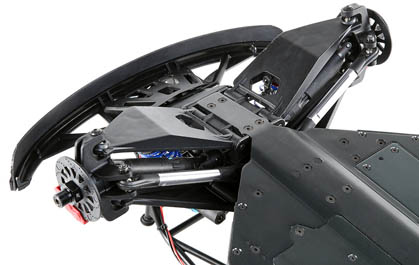 Nuovi bracci delle sospensioni anteriori e alberi di trasmissione anteriori a slitta
The front suspension arms have been redesigned on the SBR 2.0 to accommodate the slider style front axles. This allows us to run more suspension travel so we can hit the roughest terrain.
I bracci delle sospensioni anteriori sono stati ridisegnati sull'SBR 2.0 per adattarsi agli assi anteriori in stile slider. Questo ci consente di eseguire più viaggi delle sospensioni in modo da poter colpire i terreni più accidentati.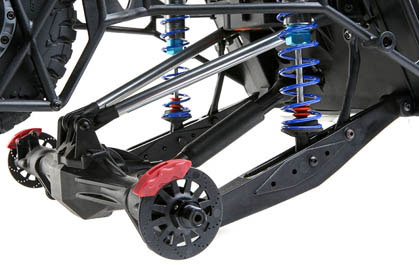 Assale posteriore a 4 bracci a corsa lunga
The Super Baja Rey 2.0 rear suspension allows it to soak up massive whoops and bumps with the same realistic handling and movement of a full-scale desert truck. You get better control and a more locked-in feel regardless of the terrain.
La sospensione posteriore Super Baja Rey 2.0 consente di assorbire enormi urti e urti con la stessa maneggevolezza e movimento realistici di un camion del deserto su vasta scala. Ottieni un controllo migliore e una sensazione più bloccata indipendentemente dal terreno.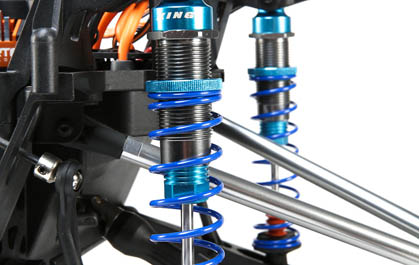 Ammortizzatori a spirale riempiti di olio
King Shocks long Travel Coil-Over Oil filled shocks with bump stops can handle anything you throw at the SBR 2.0. From hard pack to whoops, Small rollers to giant kickers, these shocks absorb it all!
Gli ammortizzatori King Shocks a lunga escursione Coil-Over riempiti di olio con tamponi sono in grado di gestire tutto ciò che lanci all'SBR 2.0. Da hard pack a whoops, da Small rollers a Giant kicker, questi shock assorbono tutto!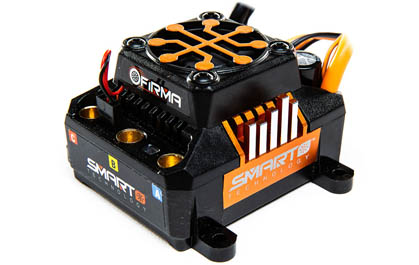 Spektrum Firma Smart 8S – ESC impermeabile 160A capace
Firma Smart ESCs do much more than regulate power. They function like a virtual engineer inside your model, providing a direct path to the vital operating data you need to reach peak performance. Firma Smart ESCs give you an extra layer of confidence that your electronics are all operating at their best.
Gli ESC Firma Smart fanno molto di più che regolare la potenza. Funzionano come un ingegnere virtuale all'interno del tuo modello, fornendo un percorso diretto ai dati operativi vitali necessari per raggiungere le massime prestazioni. Gli ESC Firma Smart ti danno un ulteriore livello di sicurezza che la tua elettronica stia funzionando al meglio.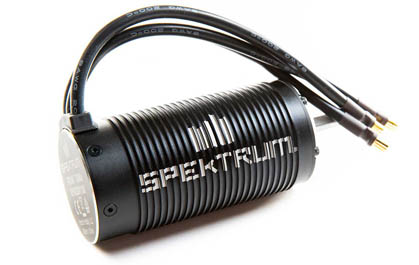 50+ MPH Spektrum Firma 8S 1/6 750Kv Brushless Motor
The brushless Spektrum Firma 4-Pole 750Kv 550 Motor will provide excellent power (50+ MPH) on 8S LiPo (not included).
Il motore brushless Spektrum Firma a 4 poli 750Kv 550 fornirà una potenza eccellente (50+ MPH) su 8S LiPo (non incluso).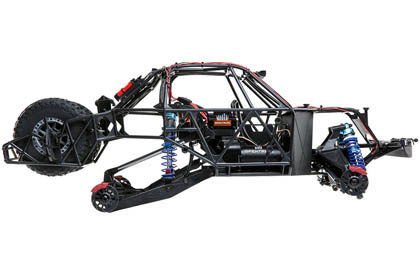 base più lunga per le ruote e bracio longitudinale posteriore
New longer rear trailing arms increase the wheelbase and add stability over rough terrain at high speeds. This also provides additional suspension tuning options
I nuovi bracci posteriori posteriori più lunghi aumentano l'interasse e aggiungono stabilità su terreni accidentati alle alte velocità. Ciò fornisce anche ulteriori opzioni di regolazione delle sospensioni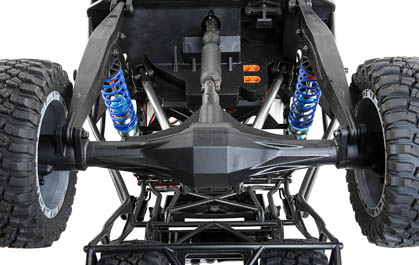 Trasmissione 4X4 con differenziali regolabili
Full-time four-wheel drive provides amazing traction. Additionally the front, center and rear differentials can be tuned allowing adjustment of the power bleed between the front and rear drivetrain. The power bleeds evenly front-to-rear and the truck will drive out of the turns harder from point to point. The tunable differentials allow you to dial in your truck for maximum performance and traction.
La trazione integrale a tempo pieno offre una trazione straordinaria. Inoltre i differenziali anteriore, centrale e posteriore possono essere regolati consentendo la regolazione del flusso di potenza tra la trasmissione anteriore e posteriore. La potenza scorre in modo uniforme dalla parte anteriore a quella posteriore e il camion uscirà dalle curve più duramente da un punto all'altro. I differenziali regolabili ti consentono di comporre il tuo camion per le massime prestazioni e trazione.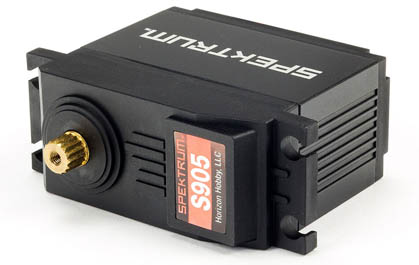 Servo sterzo su larga scala
The new Spektrum S905 HV capable waterproof servo updates the SBR 2.0. The massive torque from this servo keeps you headed in the right direction.
Servo sterzo su larga scala Il nuovo servo impermeabile Spektrum S905 HV aggiorna l'SBR 2.0. L'enorme coppia di questo servo ti tiene nella giusta direzione.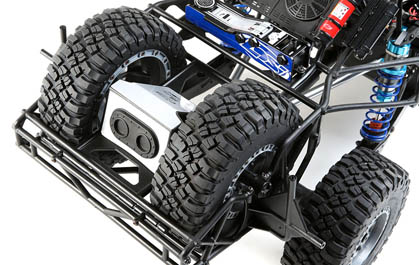 Doppio pneumatico di ricambio
Blow out a tire out on the flats? No worries. The SBR 2.0 comes equipped with functional dual spare tires. Easily add the tire and get back to tackling the terrain.
Far saltare una gomma sulle piane? Nessun problema. L'SBR 2.0 è dotato di doppi pneumatici di scorta funzionali. Aggiungi facilmente la gomma e torna ad affrontare il terreno.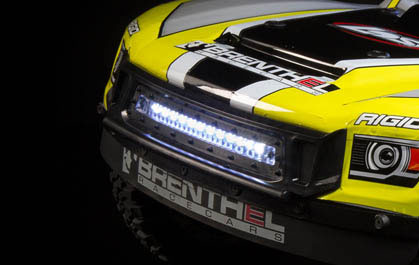 Luci a LED montate sulla griglia anteriore
The fun doesn't stop even when the sun goes down with the Super Baja Rey 2.0. Brilliant LED lights integrated into the front grill cast more than enough illumination for running at night.
Il divertimento non si ferma nemmeno quando il sole tramonta con Super Baja Rey 2.0. Le brillanti luci a LED integrate nella griglia anteriore proiettano un'illuminazione più che sufficiente per correre di notte.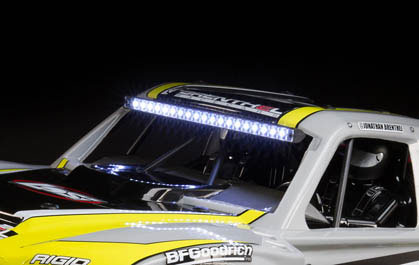 Luci a LED montate sulla gabbia anteriore
The LED's don't just stop at the front grill, as a larger set are mounted on the top of the roll cage just under the roof line.
I LED non si fermano solo alla griglia anteriore, poiché un set più grande è montato sulla parte superiore del roll-bar appena sotto la linea del tetto.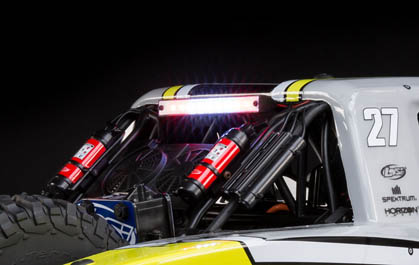 Luci a LED montate su roll bar posteriore
Continue to light up the night even after you've blown by the competition.
Continua a illuminare la notte anche dopo aver superato la concorrenza.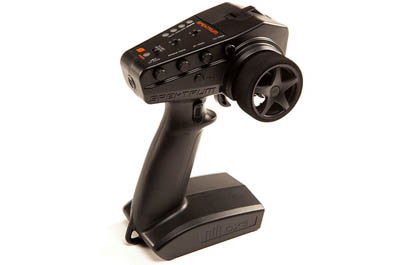 Sistema radio Spektrum ™ DX3 ™
The Spektrum™ DX3™ radio system offers advanced features like AVC control, a 3-position throttle limiting switch and travel adjust.
Il sistema radio Spektrum ™ DX3 ™ offre funzionalità avanzate come il controllo AVC, un interruttore di limitazione dell'acceleratore a 3 posizioni e la regolazione della corsa.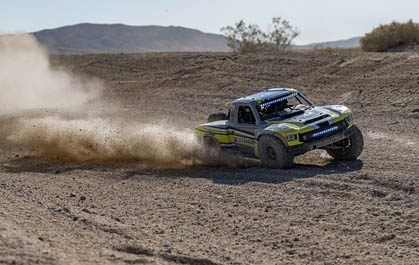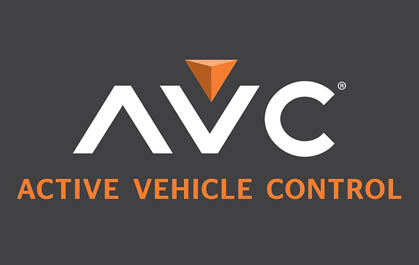 La libertà a tutto gas della tecnologia AVC®
The receiver's built-in AVC® (Active Vehicle Control®) traction control system works behind the scenes, making hundreds of throttle and steering adjustments per second, so more of the motor's power is translated into ballistic speed and acceleration instead of just flying dirt. The patent pending AVC system adds a level of performance that simply cannot be found with any vehicle from any manufacturer other than Horizon Hobby. Like traction control in your full-scale vehicle, you can activate or deactivate the system on the fly and adjust the level of stability based on driving conditions. Any RC vehicle can go fast and with AVC you can go faster while maintaining optimum stability in all driving conditions.
Il sistema di controllo della trazione AVC® (Active Vehicle Control®) integrato nel ricevitore funziona dietro le quinte, effettuando centinaia di regolazioni dell'acceleratore e dello sterzo al secondo, quindi una maggiore potenza del motore viene tradotta in velocità e accelerazione balistiche invece che solo sporco volante. Il sistema AVC in attesa di brevetto aggiunge un livello di prestazioni che semplicemente non può essere trovato con nessun veicolo di qualsiasi produttore diverso da Horizon Hobby. Come il controllo della trazione nel tuo veicolo a grandezza naturale, puoi attivare o disattivare il sistema al volo e regolare il livello di stabilità in base alle condizioni di guida. Qualsiasi veicolo RC può andare veloce e con AVC puoi andare più veloce mantenendo una stabilità ottimale in tutte le condizioni di guida.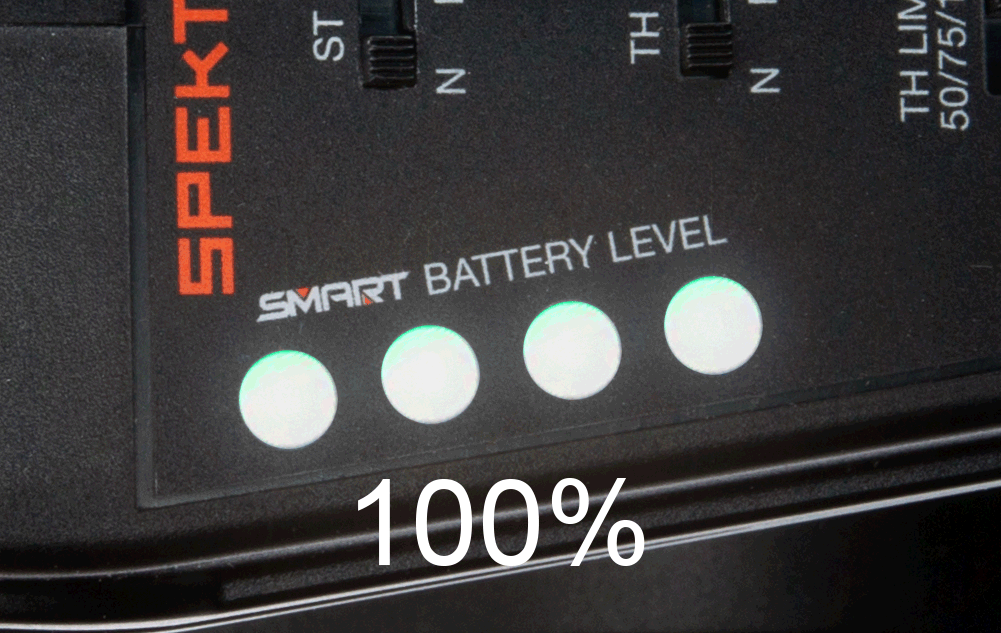 Indicatore di tensione della batteria intelligente
The Smart Battery voltage indicator drivers can easily find out the charge of their Smart battery with a quick glance and once the battery level gets low, an alarm will sound. (Smart ESC and Smart Battery required)
I driver dell'indicatore di tensione della batteria Smart possono facilmente scoprire la carica della loro batteria Smart con una rapida occhiata, e una volta che il livello della batteria si scarica, suona un allarme. (Smart ESC e Smart Battery richiesti)
Specifiche del prodotto
specifiche
| | |
| --- | --- |
| Approximate Assembly Time | Less than one hour |
| Ball Bearings | Full set |
| Battery | Sold Separately |
| Body | One-piece trimmed and painted |
| Brakes | Integral with ESC |
| Charger | Sold Separately |
| Chassis | 4mm 6061-T6 Aluminum Plate |
| Completion Level | Ready-To-Run |
| Differential | Bevel Gear, Sealed |
| Drivetrain | 4WD |
| Drive Type | Forward/Brake/Reverse |
| Final Drive Ratio | 8.22:1 |
| Front Track | 16.3″ (414mm) |
| Power Type | Electric |
| Gear Pitch | 1.5M |
| Ground Clearance | 3.5″ (89mm) |
| Internal Gear Ratio | 4.88:1 |
| Motor Type | Brushless |
| Pinion | 19T |
| Product Height | 12″ (305 mm) |
| Product Length | 35″ (889 mm) |
| Product Weight | 21.6 (9.8kg) without battery |
| Product Width | 15.6″ (396 mm) |
| Radio | Included |
| Rear Track | 16.1″ (408.9mm) |
| Receiver | Included |
| Scale | 1/6 |
| Servos | Included |
| Shock Type | Coil-Over Oil Filled Long Travel Aluminum Body |
| Speed Control | Included |
| Spur Gear | 37T Spur Gear, 18/24 Compound Gear |
| Suspension | Front, Long Travel Independent, Rear, 4-Link Solid Axle |
| Vehicle Type | Desert Truck |
| Water-Resistant | Yes |
| Wheelbase | 20.2″ (513mm) |