Descrizione
Indovinatissima Versione Edulcorata della sorellona a 6S!
Questo modello si colloca in una fascia intermedia tra le potenti auto in scala 1:10 alimentate a 3S e le più grandi in Scala 1:8 con elettroniche esagerate, da 4 a 6 celle. Questo modello è perfetto per chi vuole divertirsi alla grande con un'auto RC senza però pretendere l'esagerazione. L'elettronica a 4S garantisce ottime prestazioni e rimane più fresca rispetto alle tirate combo da 3S.
Macchina consigliatissima, ottimo rapporto qualità/prezzo. Adatto per chi inizia. Chiedeteci un consiglio sulle batterie da accoppiare, vi forniremo gli adattatori per il connettore montato di serie sul modello.
Introduction
The OUTCAST™ 4X4 4S BLX joins the ARRMA® brushless lineup as the perfect middle ground between 3S BLX vehicles and all-out 6S BLX machines. It delivers affordable, no-holds-barred stunt performance for brushed bashers looking to upgrade and anyone who wants ARRMA® toughness and 50+ mph speed!
Features
ARRMA® speed and toughness
4S-capable BLX120 Brushless Power System for 50+ mph speed
Performance approaching the OUTCAST™ 6S BLX 4X4
Spektrum™ STX2® 2.4GHz Radio System
2-Channel SRX200 waterproof receiver *
Built-in 3-position throttle limiter
Extended range and interference-free performance
Throttle/steering reversing
Throttle/steering travel adjust
Throttle limiting
ADS-15M waterproof metal gear servo *
2400Kv Brushless motor with large heatsink
BLX120 ESC with dual EC5™ battery connectors for two 2S LiPo packs
Lengthened suspension arms and driveshaft for wider track than 3S BLX vehicles
Center chassis brace for maximum durability
Metal spur gear and castellated slipper pads
Enlarged front and rear hubs for added strength
Durable 17mm hexes
16mm Big Bore shocks with molded-in shock rod end and top-loading spring
Front and rear gearboxes with metal internal differential gears
New wing, wing mounts, and bumpers
New body mounts
Low-profile BACKFLIP tires
ADS-15M metal gear servo
2-year limited warranty
* For details on waterproof standards, please refer to the product instruction manuals
Needed to Complete
(1) 3S/4S or (2) 2S LiPo battery setup
(1) Appropriate LiPo balancing charger
(4) AA batteries for transmitter
What's in the Box?
(1) ARRMA OUTCAST™ 4×4 4S BLX Vehicle with

(1) Spektrum SRX200 Waterproof Receiver (installed)
(1) ARRMA® ADS-15M Metal Gear Servo (installed)
(1) ARRMA® 4S-capable BLX120 Electronic Speed Control (installed)
(1) ARRMA® 4S-capable BLX3668 Brushless Motor (installed)

(1) Spektrum STX2® Transmitter
(1) Product Manual
Overview
At home on trails, over muddy courses, and at skate parks and race tracks, the OUTCAST™ 4X4 4S BLX shares the low, lean look of its 6S BLX forerunner in a scaled-down size. Power comes from the ARRMA® 4S-capable BLX120 brushless system – which features a 2400Kv brushless motor and ESC fitted with dual EC5™ connectors for using two 2S LiPo battery packs. Differential gears inside the front and rear gearboxes are made of durable metal.
Building from the successful 4X4 3S BLX platform, ARRMA® designers stretched the track width for the OUTCAST™ 4X4 4S BLX by widening the suspension and drive shafts. A center brace added along the length of the chassis provides maximum durability and can be removed in just four quick steps when it's time to perform maintenance. The molded 16mm Big Bore shocks include top-loading springs and molded-in shock rod ends to prevent spring loss. The large, tough wheels hubs and durable 17mm wheel hexes hold standard 3.8″ wheels, outfitted with low-profile BACKFLIP tires. The wing and bumpers follow the look of the OUTCAST™ 6S BLX, with new wing and body mounts.
The ready-to-run package comes complete with a Spektrum™ STX2® 2.4GHz radio with SRX200 waterproof receiver and an ARRMA® ADS-15M metal gear servo. Add your choice of battery, charger, and "AA" transmitter batteries, and start making your own RC mayhem!
Video Overview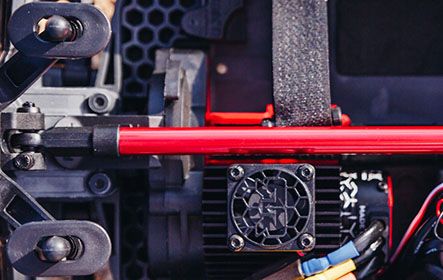 BRACE YOURSELF
Center brace for maximum durability
PROTECTIVE ROLL-HOOP
For avoiding high-speed roof scrapes
16MM BIG BORE SHOCKS
To land those huge jumps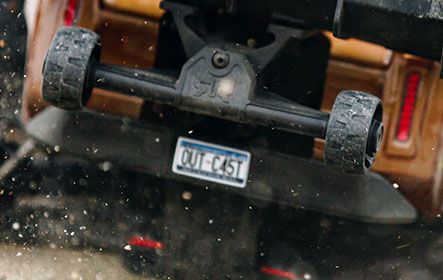 REAR BUMPER & WHEELIE BAR
For 90 degree stunt action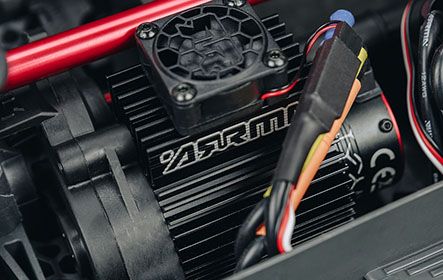 ARRMA POWER MODULE
Consists of motor, motor plate, slipper clutch assembly, and gear cover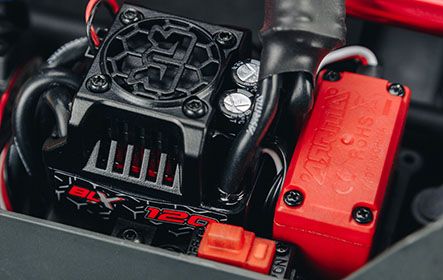 ARRMA ELECTRONICS MODULE
Ultra-compact ESC, servo, and receiver packaging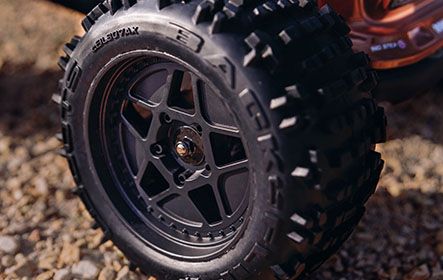 TOUGH STUNT TIRES
All black truck wheels & dBoots® Back-Flip LP all-terrain tire design
INTEGRATED STUNT WING
For maximum stability on land and in the air
ARRMA DIFFERENTIAL MODULE
Each assembled differential unit is housed in ARRMA's innovative 'yoke' design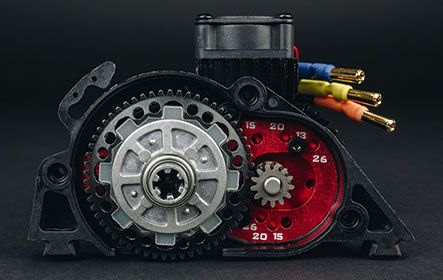 METAL SPUR GEAR
Comes together with castellated slipper pads
BLX120 ESC
Waterproof and dust proof design *
120A, 4S LiPo ready (2S, 3S and 4S hardcase LiPo compatible)
Fitted with reliable EC5™ battery connector
Integrated fan for reduced heat during extreme running
Gold 4mm bullet connector for motor wires
Low voltage cut off and thermal overload protection
User programmable punch and brake settings
* For details on waterproof standards, please refer to the product instruction manuals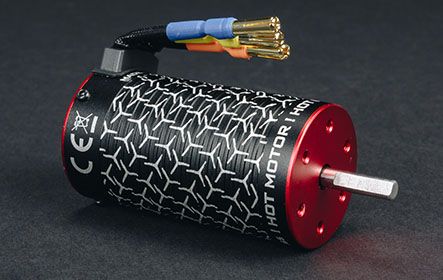 BLX3668 BRUSHLESS MOTOR
2400kV brushless motor
120A, 4S LiPo ready (2 x 2S, 3S and 4S hardcase LiPo compatible)
Beautifully etched aluminium can
4-pole construction for smooth and consistent power
Gold 4mm bullet connectors for reliable and efficient connection to ESC
Finned motor can for increased heat dissipation
Super strong 5mm shaft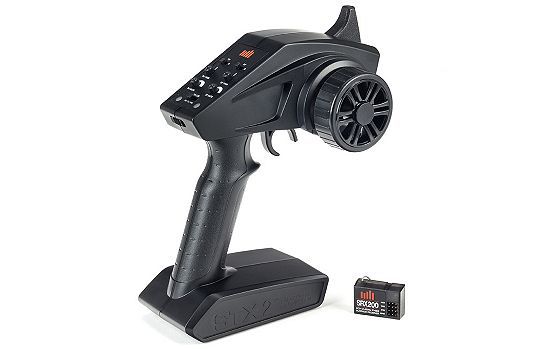 SPEKTRUM STX2® SRX200 TRANSMITTER
Precision steering wheel, perfect control in all conditions
Easily adjustable trim dials for personalized handling set-up
Lightweight and ergonomic design for long bashing sessions
Fully waterproof and dustproof ARRMA radio box *
2 channel radio system
2.4GHz technology
* For details on waterproof standards, please refer to the product instruction manuals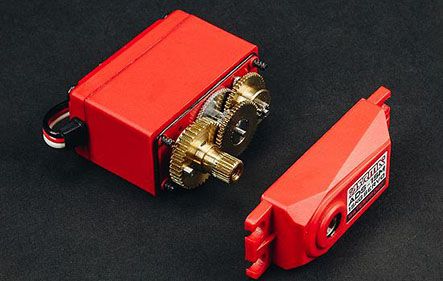 ADS-15M SERVO
Strong metal gears used throughout
Waterproof and dustproof case *
25 tooth output spline
Torque: 195 oz-in (14 kg-cm) @6V
Speed: 0.16sec/60degree @6V
Dimensions: 40x38x20mm (Industry standard size)
* For details on waterproof standards, please refer to the product instruction manuals
Summary
Author Rating
Brand Name
Product Name
1/10 OUTCAST 4x4 4S BLX Brushless Truggy RTR, Bronze (ARA102692)
Price
Product Availability