Descrizione
Caricabatterie doppio SPEKTRUM
Questo caricabatterie è consigliato sopratutto per chi utilizza batterie SPEKTRUM per sfruttare appieno la tecnologia SMART.
Queste batterie dispongono di un chip che memorizza i cicli di carica e trasmettono i dati al caricabatterie e al modello, se equipaggiato con i nuovi regolatori con tecnologia FIRMA
Smart Technology Overview
Spektrum Smart technology is about offering a higher connection to your hobby. It's a connection that puts you in complete control, makes you more aware and more confident about the capability of your equipment—all the while making vital components of your model easier to use than ever. The combined result is a sense that will make you wish everything about your hobby was "smarter."
For all radio control hobbyists that are looking for a better way to charge batteries, Spektrum Smart Chargers and Smart Batteries combine for an intuitive charging experience that results in a simple, connected, and safer charging experience. Spektrum Smart Charging virtually eliminates the hassle from charging your LiPo batteries. This is made possible by an integrated microchip on each Smart battery that communicates with your Smart charger to automatically determine the best charging settings. Plug it in, and just press start. While all hobbyists will enjoy this simple experience, advanced hobbyists can take advantage of unique data such as cycle count, unhealthy activity like overcharge and discharge, battery temperature, C rating and much more, all saved within each battery. Additionally, automatic discharge to storage ensures a better, and healthier, lifespan for your batteries.
Product Overview
The Spektrum™ S2100 Smart Charger is the first dual-output AC Smart Charger to feature Spektrum Smart Charging technology. Small and portable, this 200W charger features the brand new Spektrum IC3™ connector that delivers a robust connection that also reads vital battery content that relays to a bright LCD color display to clearly show unique information and log data about your Smart Battery such as how many charge cycles the pack has, and much more.
Spektrum™ Smart Tech Video Overview
Smart Charging Technology
When connected to a Spektrum Smart Battery, unique parameters and health of your LiPo battery upload from the Smart memory microchip integrated into the battery. Through the charger, you can set and record preferred settings, such as charge rates and self-discharge options, so that all you have to do to charge the pack is press the "Start" button. Smart technology will take care of the rest. Every Smart LiPo charger is factory assembled with the next-generation IC3™ output connector that utilizes a data transfer pin to display saved battery information directly on the LCD screen.
Simple
Preset charge, discharge, and storage parameters are automatically relayed from your Spektrum Smart Battery making charging as simple as pressing the "Start" button. Charge rate of individual batteries can be user customized allowing you to take full advantage of packs with faster charge ratings. The integrated microchip on each battery will remember the last charging rate you set, so the next time you plug it in, these settings will automatically populate so all you have to do is press "start." Another feature that the Smart microchip allows is single-connection balance charge. When you plug in your IC3 or IC5 battery, individual cell voltage is automatically relayed to the Smart charger and allows you to balance charge without fussing with standard balance connectors.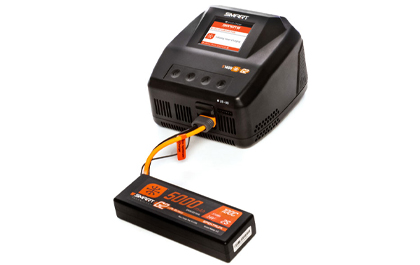 New IC3 & IC5 Connectors
The innovative Smart connection is made possible by an installed microchip on every battery, feeding the unique information through a data cable to the new IC3 and IC5 connectors. The IC series of connectors are designed from the ground up to provide a more solid connection, higher heat resistance, and effortless installation. Sprung bullets ensure a solid connection that is easy to connect and disconnect, while the convenient solder pads allow for easy installation on your device.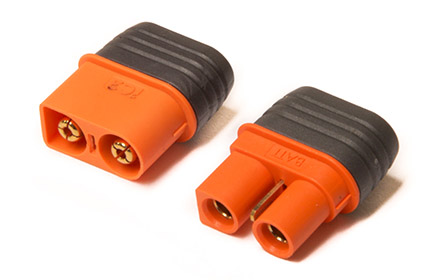 Backwards Compatible
For those using the popular EC3 and EC5 connectors, there's no need to worry. The IC connector series is entirely backwards compatible with existing connectors so you can use your Smart Charger with older batteries, but only when connected to a Spektrum Smart Battery are all the benefits of Smart technology obvious.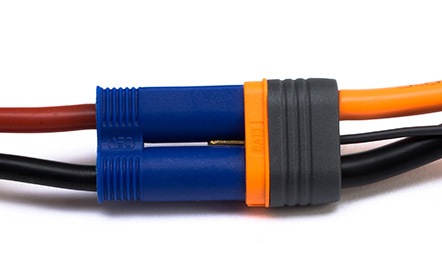 LED Display
High visibility 2.4 inch color screen brightly displays all your vital information, even in bright sunlight.
High Powered
200W of shared power output lets you quickly charge large and high cell count batteries with ease. The charger will automatically adjust the power between both channels for each charging task. If you're only charging on one channel you can utilize the full 200W output to charge batteries even faster.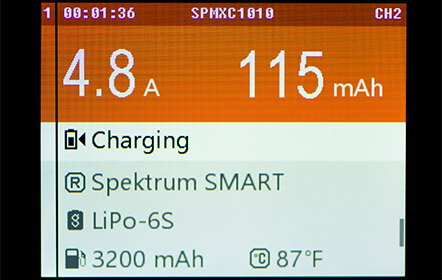 Touch Wheel interface
A clean and intuitive touch wheel interface makes it easy to navigate all the settings on your Smart Charger. This clean and simple design keeps a sleek profile that if perfect for tossing in your field bag.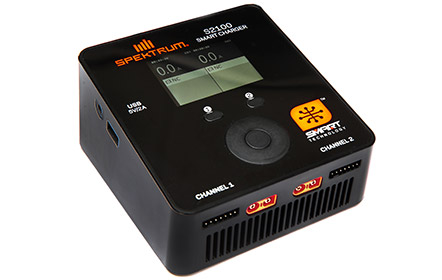 Dual Fan Cooling System
Internal dual cooling fans keep the charger at a safe and efficient operating temperature, perfect for fast charging larger batteries.
USB Port
Why stop at charging your LiPos? The integrated USB port allows you to power those other devices you bring along to the field. 5V 2A output allows you to charge your phone, monitor, or other gear quickly.
Built in Protection
When combined with Spektrum Smart Batteries, the charger automatically recognizes battery chemistry, cell voltage, and capacity to ensure that you are always charging with correct settings, virtually eliminating the potential for charging incorrectly.
Consegna in 24 ore se disponibile a magazzino. Se disponibili su ordinazione il tempo di consegna potrà variare in base alla disponibilità del fornitore.
Spektrum Smart S2100 AC Charger, 2x100W (EU Plug)
NB: Al momento dell'ordine vi verrà comunicata l'effettiva disponibilità dei prodotti selezionati.
JetModel ha sempre disponibili gli articoli più richiesti del marchio SPEKTRUM. Per articoli non disponibili a magazzino potranno essere necessari da 5 a 10 giorni lavorativi per l'approvvigionamento.
Ricambi per Barche, Auto, Moto Radiocomandate, Elicotteri, Aerei, Droni Telecomandati.
---
Articolo prodotto da SPEKTRUM distribuito da HORIZON HOBBY e venduto AL MIGLIOR PREZZO da JetModel.